Ruthie's Weaving Studio, LLC
Ruthie's Weaving Studio, LLC
3131 SE 50th Ave. Portland, OR 97206
503-232-7328
Ruthie's Weaving Studio, LLC is conveniently located 3 blocks north of Powell Blvd. on the corner of SE 50th Ave. and SE Kelley. We're also on the #14 bus line, and there's plenty of off-street parking.
Operating Hours
Ruthies is open on Tuesday and Thursday from 10 am to 8 pm and Friday and Saturday from 10 am to 4 pm.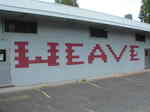 What You'll Find At Ruthie's Studio
Individual instruction for all levels, beginner thru advanced.

Large variety of looms to learn on, including a shaft-switching Harrisville rug loom, 4 shaft counterbalance looms, Bergman countermarche looms, 16 shaft J-Comp, and single unit draw loom...and more!

All types of equipment available for studio use (raddles, warping boards and mills, different types of shuttles, temples, bobbin winders, swifts, etc.

Studio library includes MANY reference books and magazines. Let's face it, it's one of the best weaving libraries anywhere in the Portland area!

Yarns available for sale include 8/2 cotton, carpet warp, and others.

Loom and weaving advice available- willing to work with you on your own home loom problems and issues.

Supportive, friendly atmosphere including weavers with all levels of experience.
Ruthie's Weaving Studio, LLC
3131 SE 50th Ave.
Portland, OR 97206
503-232-7328